Are you weighing the pros and cons of purchasing a Jardin or Oasis? While both make excellent additions to your home, what it comes down to is how much space you have to dedicate to your Vegehome, as well as how much of a yield you're expecting from your crop.
The Jardin, equipped with nine planting beds, is ideal for those living in smaller spaces or for a 1-2 person household. It fits perfectly on your counter and allows you to grow multiple types of herbs and vegetables at once. It also helps keep your bar equipped with fresh herbs all year round, always ready for an Instagram-worthy cocktail!
The Oasis is, equipped with 28 planting beds, allows you to make the most of your space. Our Oasis model is perfect for chefs and families who want to grow substantial amounts of fresh fruits, vegetables, and herbs year-round. This Vegehome garden is stackable, meaning you can grow to your heart's content with multiple devices. The Oasis also has a water sensor that will alert you when it's time to refill the planting tray.
Both models are outfitted with cutting-edge lighting technology that ensures your plants receive the perfect amount of light needed for a plentiful harvest. Not only does Vegehome deliver a greater yield of product, but users can also expect up to 50% faster growth than a soil plant meaning you can enjoy more fresh, homegrown herbs and vegetables throughout the year.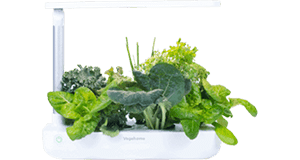 The Jardin
Planting beds: 9
Automated watering: no
Stackable: no
Automated lighting timer: yes
Product Dimensions: 37cm x 32.5cm x 16cm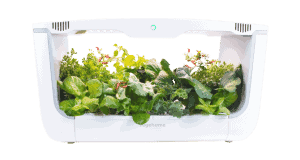 The Oasis
Planting beds: 28
Water sensor: yes
Stackable: yes
Automated lighting timer: yes
Product Dimensions: 79cm x 37.5cm x 52.2cm